Every dollar we spend is a vote for what we believe in, and what we wear is an expression of who we are. Truth Belts is a Toronto-based belt and accessories company that puts these ideals into action. Founded in 2001 by Renia Pruchnicki, Truth Belts manufactures unique and inspired vegan products for women, men, and children. More than just a company latching on to a trendy niche, Pruchnicki's Truth Belts encompasses a foundation of beliefs that supports both animal welfare and the environment while stressing that conscious consumerism is a choice that we all have as an option.
It's a popular misconception that leather isn't "bad" because it's simply a by-product of meat production. Actually, leather in many ways subsidizes those who raise animals to be sold as meat. Meat is often a pennies-on-the-pound commodity, while animal skins can bring in billions of dollars in supplemental income to the meat industry. The majority of leather found in the North American and European supply chains comes from China and India. In China there are no animal welfare laws, and Indian animal welfare laws are rarely enforced. Make no mistake about it, roughly one billion animals a year are slaughtered to produce leather.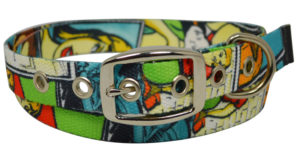 Pruchnicki feels that, "Mother nature needs our help right now. Nature is here to support humans and it seems like all we have done is abuse and exploit her to fulfill our own selfish desires." The world
does
need our help. The livestock industry is arguably the world's biggest polluter, adding significantly to global warming, and is a major source of water pollution. While 40% of the world's ice-free surface is used for agriculture, 30% of that farmland is used to grow feed for livestock. For every 100 calories of grain we grow, we only get 12 calories of chicken, 10 calories of pork, and 3 calories of beef. With alternatives to leather out there, like Truth Belt's "Genuine Non-Leather" concept, every purchase has the ability to be a vote for sustainability and responsible stewardship of our planet.
Truth Belts takes ethical fashion to the next level with a "proof is in the pudding" attitude that mixes style with consciousness. Pruchnicki has always had a passion for creating. That passion put her on a path that led to Toronto's Ryerson University where she earned a degree in Fashion Design. Post-university, she made her way through the industry working on an eclectic mix of products including ski apparel, backpacks, and soft-sided coolers. This "boots on the ground" journey schooled her in the world of fashion design and manufacturing, and set the foundation for what was to become the flower that blossomed into Truth.
Webster's definition of an entrepreneur is, "a person who starts a business and is willing to risk loss in order to make money." Pruchnicki's ethically-focused entrepreneurialism goes beyond this traditional definition as she is willing to risk her time, money and energy to put ideas into action by running a business whose externalities are only positive- helping the environment, upcycling, and preventing the needless suffering of animals.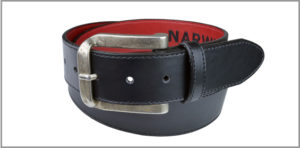 So what are "Genuine Non-Leather" products all about? How do they look and feel? Are they comparable in quality to leather products? To test out the product, Truth Belts sent me a belt to look over, wear, and without knowing it, fall in love with. I am wearing Truth's "Narwhal" as I write this, and when I first laid eyes and hands on it, I knew I would never be wearing a leather belt again.
The day that the Narwhal, named for the whale that, in Pruchnicki's words, "…will be affected by greedy oil drilling in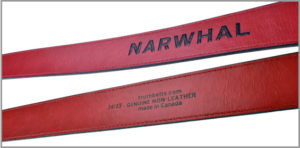 ocean waters", arrived at my home, the handsome belt lay on my counter, its distinctive red interior side contrasted by the classy black exterior. A friend walked into my apartment and the first words out of his mouth were, "That's a beautiful leather belt". I laughed, and showed him the "Genuine Non-Leather" script on the inside of the belt- he was shocked. The Narwhal is a tough belt. I was immediately impressed with its heft, impressive stitching and chunky solid metal buckle that is made in Spain. The interior red and exterior black layers are polyurethane while the middle is made from upcycled car tires. Upcycling, a word that is thrown around a lot today, is to reuse a discarded material in a way that creates equal or greater value than the original item. Truth Belts is textbook upcycling put into action.
There is a lot of debate about the environmental impact of polyurethane as a vegan alternative. Synthetics have an upside and a downside. The downside of polyurethane is the solvents in the manufacturing process that coat fabric with the liquid polyurethane. The solvents can be toxic, but the newer polyurethane "leathers" use waterborne coatings that have minimized the footprint on the environment. Put next to the tanning process, comparing polyurethane and leather are like night and day.
Tanning leather is one of the most toxic processes of modern times. Those who work in, and live around, tanneries have cancer rates that are absolutely devastating. The majority of leather tanning involves a process using toxic chromium that ends up leaching into the local groundwater resources. While chromium is banned in the United States and Europe, the practice is the modus operandi in countries such as India and China. Truth Belts offers an alternative that presents a solution, albeit a solution-in-progress, to the complex equation of the moral and environmental struggles of the modern fashion industry. A slogan on Truth's website sums up Pruchnicki's mission nicely, "
Put compassion on your pants with a vegan belt."
Truth Belts is a funky company that represents the uniqueness of its founder Renia Pruchnicki. 1% of all sales from truthbelts.com go to Embracing the World, a multi-faceted non-profit that provides disaster relief, has built over 40,000 homes for the poor, given an equal number of academic scholarships to the children of farmers, supports orphanages, and even has an extensive pension program for destitute women and the mentally handicapped.
Truth takes their philanthropy efforts to another cause with the Albedo belt. 100% of profits from the Albedo go to Parvati.org, an organization that Pruchnicki is involved with that is dedicated to creating the Marine Arctic Peace Sanctuary, aka MAPS. Albedo is a measurement of how much of the sun's radiation is reflected back into space, creating the "albedo effect", a natural mechanism of the Earth that protects humankind. Global warming is causing the ice caps to shrink, lessening the albedo effect and creating a dangerous snowball of events that puts all of life in harm's way. MAPS is a proposal that would preserve the Arctic from exploitation and in turn protect marine life, help slow the warming of the oceans, and safeguard our future here on Earth. No small goal right? But, no one said that Truth Belts has small goals.

The more you look into what Truth Belts is all about, it is easy to see that it is a humble company with revolutionary goals- ethical entrepreneurship. Renia Pruchnicki has found a way to balance advocacy and sustainability with a business model that should become a textbook case study for entrepreneurs, business students, and anyone who want to do more than just "go to work to earn a living".
Truth Belts produces an ever-evolving line of products that includes belts, wrist cuffs, t-shirts, suspenders for adults and kids, and even a dog leash. You can shop Truth online at Truthbelts.com and in stores worldwide. Here is a little taste of Truth's ethically fashionable products…