The winter holidays are a time of year that bring together people who care about one another and the spirit of giving is enmeshed with personal traditions. I realized the other day when I was writing about the fact that the average American eats 7000 calories on Christmas Day, that a huge opportunity is being missed on this holiday that is so focused on giving. We are missing the opportunity to give the gift of life and compassion to those without voices- the animals that become holiday meals.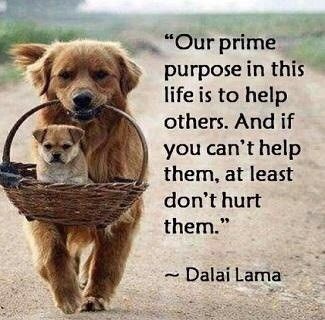 What is the "Christmas Spirit"? Christmas was founded as a Christian holiday to celebrate the birth of Jesus. Since then, Christmas has become a symbol of all that is good and bad with this world. "Giving, caring, and family" has intertwined themselves with $1 trillion dollars spent on gifts, Black Friday shopping frenzies and giant inflatable lawn ornaments.
Somewhere in that churning smorgasbord is the true spirit of Christmas. So what is that true spirit? In 'Elf' the Christmas Spirit made Santa's sleigh fly. (A really cheesy scene btw, but heck, Christmas can get pretty cheesy) When I think about what Christmas means- love, respect, compassion, and giving… it seems to embody the ideals of letting animals live and eating a plant-based diet.
Compassion truly is a gift that gives back, the reciprocal energy of kindness is both healing and energizing. A majority of Americans are "animal lovers". 65% of households have a pet, yet only 3% of Americans maintain a vegetarian lifestyle.
On the one hand, we love animals. On the other hand we eat them and wear them despite plenty of other alternatives being widely available. The holiday season is a good time to reflect on who we are and where we are, and who we want to be and where we want to go. Compassion for other creatures, and loving ourselves, respecting our bodies, that is the type of Christmas Spirit that can keep on giving the entire year.