Many people have had Monosodium Glutamate, MSG, on their watch list, but the majority of us get fooled every day into eating it by the tricksters working for Big Food. During the 1980's and 90's there was a lot of hype regarding Monosodium Glutamate, otherwise known as MSG. MSG has many negative effects on the body, but it's most dire effect is that it makes us gain weight. When experiments on obesity are done using mice, the mice are fed MSG, which quickly makes them grotesquely obese.
But, you are thinking, "I never see Monosodium Glutamate on the ingredient lists of foods I eat." Wishful thinking my friend, because it is in there. Today, MSG can be found in over eighty percent of foods sold in the United States. When it became apparent that consumers did not want MSG in their food, Big Food appealed to the FDA and won the right to conveniently rename MSG on ingredient lists that are mandatory under U.S. food packaging laws. The most common of these na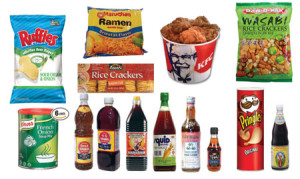 mes are maltodextrin, sodium caseinate, autolyzed yeast, autolyzed vegetable protein, hydrolyzed vegetable protein, yeast extract, citric acid. These names sound somewhat familiar, right?
It is hard enough to avoid MSG at the supermarket, but avoiding it becomes even harder when eating out at restaurants. Americans now spend more at restaurants than they do at home, and on average either dine in, order food, or get take out from restaurants a whopping six times a week. While MSG abounds in fast food, this helpful list gives you an idea of what to be on the lookout for.
Highly processed, flavorful (salty) snack-food

Flavored Chips
Flavored crackers
Flavored nuts

Broths

Chicken broth (all chicken broth has naturally occurring glutamate, even if MSG isn't added)
Beef broth
Non-Organic Vegetable broth
Bouillon cubes (chicken or beef)

Soups

Broth-based soups (chicken noodle, vegetable soups)
Cream of ****** soups (mushroom, chicken, celery, etc.)
Instant soup mixes

Convenience Foods

Ramen Noodles
Frozen dinners
Flavor Mixes
Salad Dressings