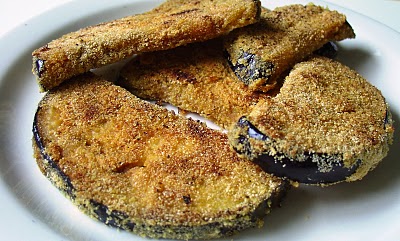 Eggplant often scares away the novice home cook, I know I have shied away from it until recently. Now I've learned that the eggplant, or the aubergine as the French call it, should be embraced, and I promise it won't bite!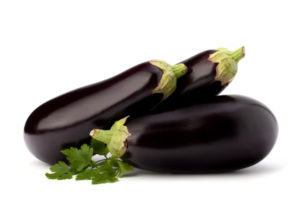 A little fun background- the eggplant is in the nightshade family, a relative of the tomato, the bell pepper, and potatoes. When picking out an eggplant, it should be shiny, never waxed, and without scars or bruises which can indicate internal decay. Freshness can be determined with a quick "test press" by pushing gently on the skin with your thumb. If the flesh stays indented, the eggplant is not fresh; if it bounces back, the eggplant is destined for your table.
Nutritionally, the eggplant is robust. Eggplant is a superb source of fiber, rich in B vitamins, and full of powerful antioxidants including chlorogenic acid, a powerhouse free radical. Chlorogenic acid has been found to be anti-cancer, antimicrobial, antiviral, and a strong fighter against LDL (bad cholesterol).
One of the hang-ups about eggplant is that it can retain its bitter taste after cooking. The below recipe has prep instructions for "salting" the eggplant. These salting instructions can be used regardless of how you are going to cook the eggplant and removes any bitterness.
I've been roasting eggplant recently with equal portions of squash, zucchini, and cherry tomatoes- an instant hit. While the roasted veggie medley is delicious, fried eggplant has broken the "glass ceiling" of the eggplant world for me. So your sold, right? Let's cook!
Ingredients:
1 medium to large eggplant
Salt
Extra virgin olive oil
Bread crumbs (I like Ian's vegan/gluten free Italian-flavored breadcrumbs)
1 egg (Vegan alternative: almond milk)
Nutritional yeast (optional)
Parmesan or Vegan Parmesan (Recipe for homemade vegan Parmesan)
Alternately you can go Cajun and use plain bread crumbs and add the nutritional yeast and your favorite Cajun seasoning. I tried this out and is was delish!
Prep:
This 30 minute salting will soak any bitterness out of the eggplant. It can be used to prep eggplant for any recipe.
Stripe eggplant (Optional, but makes a nice presentation)
Cut into half inch slices
Lay on baking sheet and salt both sides generously
Let the slices sit for 30 minutes, rinse and strain
Cooking:
Set aside two bowls
In one bowl whip egg with or pour 1 cup of almond milk
In a second bowl mix bread crumbs with desired add-ons as desired (cheese/spices)
Place skillet pan on medium heat
Heat approximately 2 tablespoons of olive (This is enough for 3 slices at a time)
Dip slices in bowl 1, then bowl 2 and fry eggplant slices approximately 2 minutes on each side. Tip: when placing a slice in the pan, quickly flip the slice with a fork so that each side gets coated with oil)
Cook the slices until each side is browned, but do not overcook or the slices will get mushy (they taste better when there is still some firmness)
Add more oil and repeat until all the slices are cooked. Do not cook more than three at a time unless you add more oil)
Bon appetite!