Tacos, fajitas, burritos, burrito bowls- year round comfort food that always hits the spot. Comfort food doesn't have to mean high calories and grease though. This original "Living to Smile" recipe is out to prove that, and it has become an instant hit in our kitchen. My mushroom/tofu filling is inspired by Chipotle's "Sofritas"- shredded tofu simmered in a blend of spices. After making sofritas at home the first time, I realized that there was room for improvement to give it more body. I simply added chopped mushrooms to the tofu, a perfect pairing, and "Mushroom Sofritas" was born.
Over the years I have tried out a variety of store-bought taco seasonings. Organic ones are expensive and any of the mainstream ones such as Ortega, McCormicks, and Old El Paso have ingredients such as whey (milk), autolyzed yeast extract (MSG), caramel color (sulfites), silicon dioxide, and ethoqyquin (preservative). Not to mention the wasteful single-use packaging many of these seasonings come in.
You and your tacos deserve much better than this! Making your own taco seasoning is a snap. The best thing about making your own seasoning mix, besides not having a bunch of nasty stuff in it, is that you can make it in bulk and use it on all sorts of things you conjure up in the kitchen.
Mushroom Sofritas
Ingredients:
(1) package Firm Tofu (Look for packages with the Butterfly– indicates GMO free)
Approximately 8oz. White Mushrooms
2 tablespoons Taco Seasoning (delicious homemade recipe below)
2 tablespoons Extra Virgin Olive Oil
1 Lime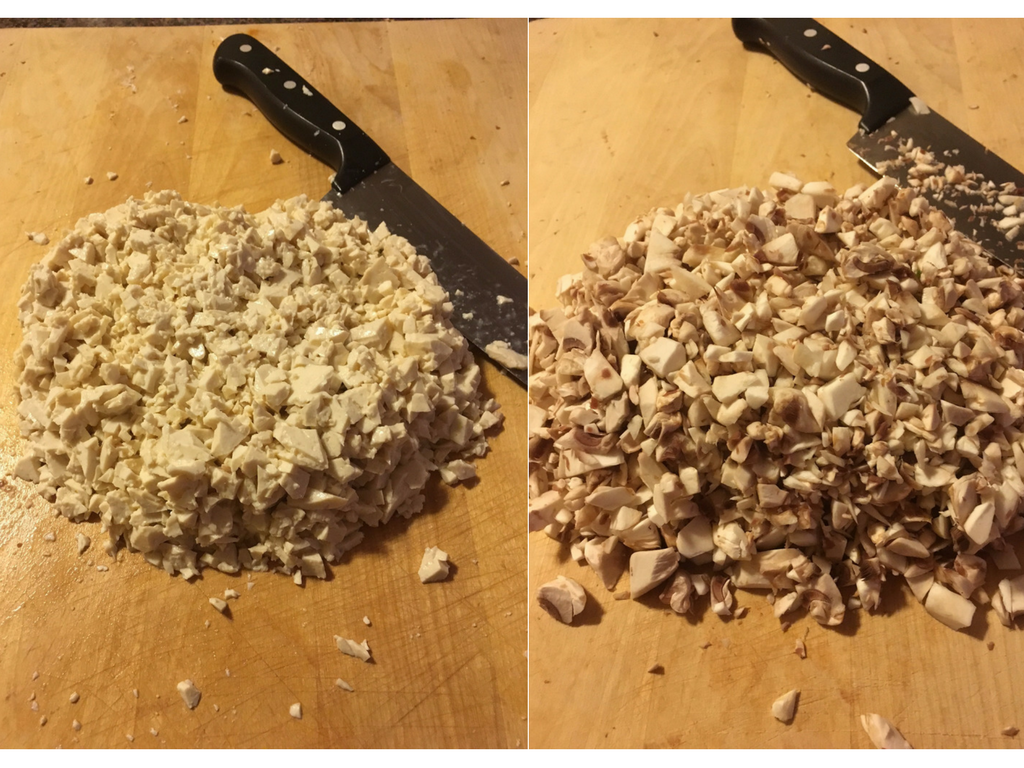 Directions:
Chop tofu and mushrooms (see above pic)
Warm oil in skillet
Add tofu and mushrooms
Add taco seasoning. I like about 2 tablespoons of seasoning, but you can add more or less depending on how spicy you like it.
Cut lime in half and squeeze over cooking mushroom sofritas
Cook on high for about 7 minutes
Bon appetite!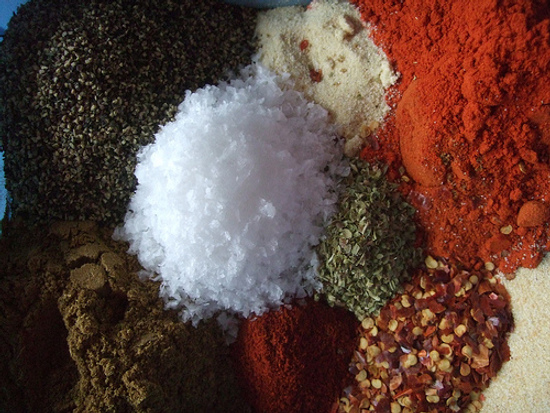 Homemade Taco Seasoning
Makes a little over 1/2 cup. If you like your taco seasoning on the mild side, just cut down or eliminate the black pepper from the mix.
1/4 C. plus 1 Tbsp. Chili Powder
1 1/4 tsp. Garlic Powder
1 1/4 tsp. Onion Powder
1 1/4 tsp. Crushed Red Pepper Flakes
1 1/4 tsp. Dried Oregano
2 1/2 tsp. Paprika
2 Tbsp. plus 1 1/2 tsp. Ground Cumin
1 Tbsp. plus 2 tsp. Sea Salt
1 Tbsp. plus 2 tsp. Black Pepper (optional)